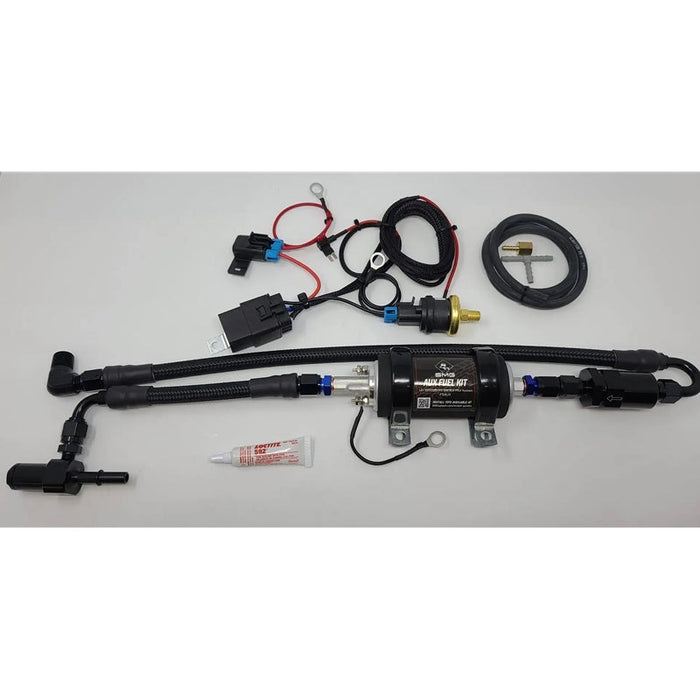 SMG Pontiac G8 Chevy SS Sedan Aux Fuel System
Save

18

%
Save

15

%
Original price
$1,000.00
-
Original price
$1,100.00
SMG's Aux fuel kits give you additional fuel supply needed when chasing more horsepower for both boosted and N/A applications and are compatible with Gasoline and Alcohol based fuels. (N/A application may require additional parts sold separately or custom wiring to activate the pump).
Using ultra reliable and serviceable Hobbs activation, our kits are designed to last a lifetime and don't require any hard to get, non-serviceable, proprietary, failure prone controllers found in some kits.
Designed to integrate in-line with your existing factory fuel system. Fittings designed and included to work in conjunction with your factory fuel system and fuel pressure regulators.
Available with pre-set trigger points. 2, 4 and 7psi for boosted applications, 4psi is the default and works for most installations. Consult your tuner prior to purchase as these systems are not returnable once delivered.
Vehicle specific applications, means no cutting, no slack and a clean neat install.
Plug and Play Harnesses utilizing high quality North American sourced components from Honeywell and similar brand names and use weatherproof connections for long term, reliable service.
Laser cut vehicle specific brackets where available.
We use only Genuine Walbro inline Fuel pumps that can support up to *800 Horsepower on Gasoline.
All Kits use high quality anodized aluminum fittings for long corrosion free life.
All Kits include fully assembled 100% ethanol fuel safe Double Braided (Kevlar Aramid Braid over Stainless Braid) synthetic hoses.
Brand name Teflon based fuel safe sealant included with all kits.
Drilling of your factory Fuel Tank will be required. 3/8NPT Tap and 37/64" Drill bit (not included).
SMG Aux Fuel Systems are assembled to order, please allow 3-5 Business days before your order ships
*Horsepower claims based on manufacturer supplied numbers using gasoline, your results may vary based on your application, fuel used, your tune and supporting modifications.
*Tune required to use on all applications. Our kit will introduce a significant increase in fueling capacity which will confuse your OEM Fuel System controller, consult a competent tuning professional to make the necessary changes for your application. No Tuning Advice will be provided by SMG.
**All SMG Products are designed with the DIY installer in mind, however due to great variance in DIY installer skill and experience, The SMG Lifetime Warranty will only apply to installations performed by verifiable commercial installers. If you attempt to DIY install, please note, all systems are assembled and tested before they leave our facility, and no technical or installation support will be provided. Damage to components due to misuse, improper installation, or outside causes will be considered for any sort of Warranty Coverage, keep in mind systems are tested and verified prior to leaving our facilities. **
Liability – This is a High-Performance Aftermarket Fuel system. You will make modifications to both your fuel, and electrical systems. You the installer, the consumer, and user acknowledge the inherent risks and assume all liability, laws and any applicable dangers associated.